Most frequently asked questions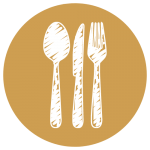 My food philosophy centres on
Simplicity, Seasonality and Ease.
CHEF KEVIN BLAKEMAN
How did I become a Chef?
My story of becoming a chef is very different to the usual. I hated wood work and the likes at school. I did food technology to avoid it and just really loved it! At the time I received the schools highest marks for my coursework  finishing with A+. From here I saw an ad for the chefs course. I applied with little expectation as it meant me moving out on my own at 16 to the other end of the UK. I got it, I loved it.
We were making jus one day, first day roast the bones and boil the water, two days later and a few other ingredients I couldn't believe what I was tasting, it was so exciting. From then I haven't looked back.
How long have I been a Chef?
Too long lol – 20 years exactly
22 if you include McDonalds!
Have I won any awards?
3 Beef and Lamb Excellence awards
Various awards at the yearly culinary competition salon D'ór, have won lots there mainly silver and bronze, 2 golds I THINK but unsure
Dilmah high tea competition we received a bronze
I have many swimming badges but I don't think they count!
 
What is my favourite dish to cook?
I love cooking gnocchi or fresh pasta in the home situation, you can take your time and it is a great pleasure.
I LOVE cocktails and love making new creations at home as well.
Do I have a signature dish?
Non, don't believe in it. Things change all the time, I change all the time and I have always refused to be tied to 1 dish.
Have I cooked for anyone Famous?
YES I have… as part of the Chef's Association of the UK Specialised chefs course, I was employed at the houses of Parliament. It is here I spent four years cooking for heads of state and royalty.
I was fortunate to be part of a team that cooked for The Queen, many UK MP's, Sven Goran Eriksson (Swedish Football Manager) and Gordon Ramsay.
Have you ever contributed to Magazines or TV?
Good morning, Stuff, Raukumara venison, palm oil article in Nourish magazine, weekly spot at Hobsonville market using market ingredients, Chocolate and Coffee Show presenter for 2 years.
Who is Chef Kevin and what drives you?
I'm very competitive in all aspects of my life and have a great old fashioned love for hospitality. It sounds really cheesy but there is nothing better than someone having a bad day that you can turn around with a smile and some good service.
I've been married to Jen since 2009, I have 2 fabulous sons Henry and Oliver aged 9 and 7. Their favourite meal for me to cook them is Meatballs! We have just started branching out to some different restaurants.
Oliver is really good with food and last week we both tried chicken feet for the first time!

In 2020 I took over Beaufort + Co cafe in Albany.
What is something that people don't about you?
I love musical theatre and believe I am the greatest Broadway star trapped in the body of someone who cant sing or dance!
I have never done any other job other than cooking, I am a massive anti palm oil advocate.